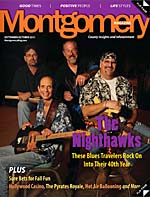 Montgomery magazine features a great cover story on the Nighthawks, six pages of a nice overview with photos.
"I've been able to go from something I imagined in my mind . . . to today and what the band sounds like," says Wenner, reflecting on the band's implausibly long run.
Check it out:
Montgomery Magazine Sept/Oct 2011

From the Press Release:
Severn Records announces the signing of seminal American roots music band The Nighthawks, who've already recorded their first album for the label, with an expected release date in the first quarter of 2012. The two Washington, DC-area based entities unite at a very special time in their history. Severn Records was just announced as the recipient of the 2012 Keeping the Blues Alive Award for Record Label from the Blues Foundation; and The Nighthawks are coming off their first-ever Blues Music Award (also from the Blues Foundation) –  Acoustic Blues Album of the Year – for their Last Train to Bluesville CD, presented in Memphis this past May.
View complete PRESS RELEASE